"Health City Cayman Islands welcomed Dominican adolescent Andy Herrera Reyes who managed to survive thanks to a technique that assumes the natural function of the heart and lungs, allowing the patient to rest while the natural healing of the heart occurs, to be later transplanted in the United States "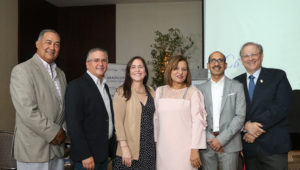 Dr. Miguel Guerrero, Dr. Alejandro Domínguez Brito, Dr. Astrid Salazar, Dr. Oneyda Ramírez, Dr. B. Chattuparambil, and Dr. Luis Alam Lora
Santo Domingo. – During a meeting at the Real Intercontinental Hotel, Dr. Binoy Chattuparambil, clinical director and head of cardiac surgery at Health City Cayman Islands shared with leading medical professionals, representatives of ARS and related, the main success stories they have achieved, among them that of Dominican teenager Andy Herrera Reyes.
The cardiothoracic and vascular surgeon also explained that Health City Cayman Islands welcomed Dominican teenager Andy Herrera Reyes who managed to survive thanks to ECMO, extracorporeal membrane oxygenation, a technique that assumes the natural function of the heart and lungs, allowing the patient to rest while It produces the natural healing of the heart.
Andy remained in Health City Cayman Islands until he was transferred to the United States where he waits for a transplant.
This institution is the first hospital accredited by the Joint Commission International in the Cayman Islands and enjoys performance indicators that position it as a center of the latest technology, high quality, accessible and patient-focused.
Dr. Binoy stressed that Health City Cayman Islands receives patients from more than 60 countries and have performed more than 3,050 surgeries and procedures; 1,400 diagnosed angiographies; 150 neuro and spine surgeries, and also installed the first artificial heart performed in the Caribbean (LVAD).
During the event, Dr. Binoy said they are responsible for providing advanced medical treatment options with exceptional value.
In the activity that also had as an objective the exchange of experiences and the development of synergies among the participants, Dr. Marjorie Culbert, medical representative of Health City in Latin America, said that with a humanistic approach they provide specialized medical services in areas such as Electrophysiology, Sports Medicine, Cardiothoracic and Plastic Surgery, Pulmonology and Sleep Laboratory, Pediatric Endocrinology and Interventional Neurology.
Darling Rodríguez de Villanueva, a representative in the Dominican Republic of Health City Cayman Islands also highlighted the differential level they provide to each patient in the hospital: "Our patient care relationship team is with patients from the beginning, and they never feel alone, in the process until recovery."
"We are an extension of Narayana Health, the largest hospital in India, we have a new state-of-the-art and very high-tech hospital model, where patients already have an option other than the United States and thanks to medical experience, we compare ourselves with hospitals in developed countries, Rodríguez de Villanueva emphasized."