According to a Cleveland Clinic Florida specialist, half of type 2 diabetics are obese.
Cleveland Clinic Florida has developed the Bariatric and Metabolic Institute, an all-inclusive surgical weight loss program that combines clinical skills with patient support.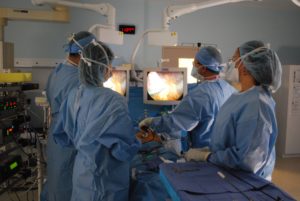 February 2018. According to the Dominican Society of Diabetology and the Dominican Society of Endocrinology and Nutrition (SODENN), about 10% of the Dominican population, one million people, has been diagnosed with diabetes. Dr. Jacqueline Díaz, president of SODENN, said that 90% to 95% of them are type 2 diabetic patients.
Type 2 diabetes is considered "one of the leading killers in the world" according to the World Health Organization.
Diagnosing diabetes on time is difficult until complications occur. Therefore, it is very important to recognize the warning signs to follow effective treatment. Some of the most common symptoms are frequent thirst, frequent need to urinate, increased appetite, fatigue, recurrent infections, tingling in the extremities, blurred vision, and slow wounds to heal.
Dr. Raul Rosenthal, a bariatric surgeon, and director of the Bariatric and Metabolic Institute of Cleveland Clinic Florida indicated that approximately half of type 2 diabetics are obese and the best option to manage this disease is with a multidisciplinary treatment. This includes the help of endocrinologists, diabetes nurses, nutritionists, as well as specialists from other branches.
"The first step in treatment consists of changes in lifestyle, diet, and exercise, with great weight loss. When weight loss is not achieved through these efforts, then the medication is started. The first line of treatment is oral medications, insulin therapy is usually added later unless the patient has many symptoms and blood glucose levels are weakly controlled with oral medication, "said the Cleveland Bariatric Surgeon. Clinic Florida.
On the other hand, Dr. Rosenthal commented on a recent Cleveland Clinic study which showed that the combination between bariatric surgery (surgical procedures to treat obesity) and medication are more effective in improving sugar levels in diabetic patients, that only with medicines.
In that sense, Cleveland Clinic Florida has created the Bariatric and Metabolic Institute, an all-inclusive surgical weight loss program that combines clinical skills and patient support, providing a complete treatment.
"Our surgeons are highly trained in minimally invasive bariatric and metabolic surgery, using small incision techniques whenever possible. This reduces the risk of complications and generally results in a faster recovery, with less pain and discomfort than traditional surgery, "concluded the specialist.
For more information on Cleveland Clinic Florida visit: https://www.my.clevelandclinic.org/florida
For information on the Cleveland Clinic Florida Bariatric and Metabolic Institute visit: https://www.my.clevelandclinic.org/florida/departments/digestive/depts/bariatric
About Cleveland Clinic
Cleveland Clinic is a nonprofit academic medical center with several specialties that integrates clinical care and hospital care with research and education. Located in Cleveland, Ohio, the clinic was founded in 1921 by four renowned doctors with the vision of providing medical care to the patient based on the principles of cooperation, compassion, and innovation.
Cleveland Clinic has pioneered many medical advances, including coronary revascularization surgery and the first face transplant in the United States. U.S. News & World Report frequently rates Cleveland Clinic as one of the best hospitals in the nation in its annual survey "The best hospitals in the United States."
Among the 49,000 Cleveland Clinic employees, there are more than 3,400 doctors and researchers working full-time salary and 14,000 nurses, all of whom are dedicated to 120 medical specialties and subspecialties.
The Cleveland Clinic health system includes a 165-acre main campus located near downtown Cleveland, nine community hospitals, more than 150 outpatient clinics in northern Ohio – even 18 full-service health centers for family and three health and wellness centers– and facilities in Weston, Florida; The Vegas, Nevada; Toronto Canada; Abu Dhabi, UAE; and London, England. In 2015, there were 6.6 million outpatient visits, 164,700 hospital admissions, and 208,807 surgical cases throughout the Cleveland Clinic health system. Patients arrived to receive treatment from all states of the country and 180 countries. Visit us at www.clevelandclinic.org.