Both institutions seek to contribute to overcoming poverty, promoting quality education, promoting social inclusion, and sustainable development in the Dominican Republic.
Santo Domingo.- World Vision and Rotary Dominican Republic District 4060 signed a collaboration agreement to work for the welfare of children in vulnerable communities in the country.
With the agreement signed by Randol Medina, Manager of Administration, Finance and Technology on behalf of World Vision, and Pedro Vargas, governor of Rotary Dominican Republic District 4060, in the presence of executives of both organizations, seek to collaborate with the overcoming of poverty, the promotion of quality education, the promotion of social inclusion and sustainable development of the Dominican Republic..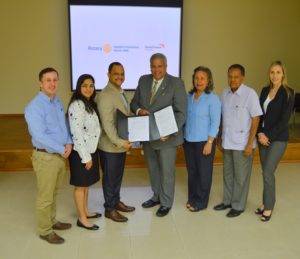 Similarly, the agreement will promote the implementation of initiatives that contribute to quality basic education, by creating favorable environments for study and reading, with special focus on children and adolescents in public schools located in the Duarte Corridor and border areas.
As they contemplated, they will collaborate in the development of larger projects, identifying sources of financing at an international level, through the Rotary and World Vision, respectively.
In the Dominican Republic, World Vision impacts more than 35,000 children, adolescents, and youth in the different communities in which it works.
Rotary is a worldwide network of 1,200,000 neighbors, friends, and leaders who take action to solve problems, which together generate positive and lasting change in communities in their countries and abroad.