More than 20% of the population has experienced hives at some time.
The disease has a high impact on the quality of life.
Dominican Republic, September 2017– One day, when looking in the mirror, Ana discovered her face and body with hives, felt itchy, and the hives were swollen. In a few weeks, the welts disappeared. Like Ana, a fictional patient, about 20% of the world's population has experienced at some time during her hives. However, in other cases, people have symptoms for six weeks or more, without an apparent cause; In these cases, the condition is described as chronic spontaneous urticaria (ECU), which is developed by about 1% of the population.
Patients with ECU experience hives that itch and burn, sudden and sometimes painful inflammation of the deeper layers of the skin, often on the face, hands, and feet (angioedema). They also report difficulty sleeping, including insomnia, anxiety, and depression. The ECU has a duration of at least one year in most patients, more than five years in a considerable proportion and up to 50 years in rare cases.
The quality of life of these patients is profoundly affected, they are tired and anxious, their social and sexual relations are negatively impacted, they limit the sites they visit when preferring low temperatures, avoiding social exposure and using soft clothing and covering them. The impact on their quality of life is further aggravated when they present with angioedema.
Often it is not possible to identify the specific cause of the disease, and this causes frustration in patients.
"Exactly the cause of the ECU is unknown, which makes it challenging to treat it properly. It is a disease associated with the release of histamine and other inflammatory mediators, and each patient experiences it differently.
It is important that patients visit their dermatologist and allergist regularly and to the extent possible, share with the specialist all their symptoms and even, if possible, photographs to determine the best treatment, "said The Therapeutic Director for Dermatology Novartis for Central America and the Caribbean, Dr. Paolo Tassinari.
For the approach of hives, antihistamines are considered as part of the treatment as well as more specific treatments for persistent cases. Dr. Tassinari explains that in Central America, this disease is highly underdiagnosed, since the estimated number of affected patients maybe around 150,000.
Precisely to meet the needs of patients affected by this disease, Novartis has been dedicating significant efforts and resources to strengthen and improve its portfolio of dermatology specialty, adding drugs to respond adequately to the needs of these patients.
A patient with typical chronic spontaneous urticaria:
Almost twice as many women as men suffer from UCE.
People of all ages can be affected by the UCE, but the incidence peaks are between 20 and 40 years.
The ECU is unpredictable, so the time someone suffers can vary.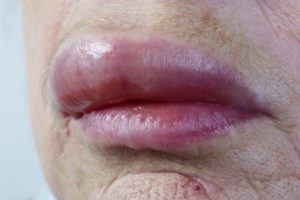 About Novartis
Novartis provides innovative health solutions that address the evolving needs of patients and societies. Based in Basel, Switzerland, Novartis offers a diversified portfolio to meet better these needs: innovative medicines, vision care, and generic pharmaceutical products that save costs.
Novartis is the only global company with leadership positions in these areas. In 2016, the Group achieved net sales of USD 48.5 billion, while R&D throughout the entire group amounted to approximately USD 9.0 billion.
The Novartis Group companies employ approximately 118,000 full-time associates. Novartis products are available in more than 155 countries around the world.
For more information, please visit www.novartis.com