As part of the activities of the "We need everyone to eliminate violence against children" campaign, World Vision held this Thursday the Conversation Changing Parenting Paradigms, whose objective is to continue promoting a change in violent discipline methods, for an upbringing based on respect, love, and dialogue.
This activity was the closing of a series of 15 conversations, held in different parts of the country with fathers, mothers, community and religious leaders, local authorities and teachers, to promote nurturing with tenderness. A summary of the conclusions of these discussions was presented at the opening of the panel.
The panel was composed of Dr. Anna Grellert, Childhood and Development advisor for World Vision Latin America and the Caribbean; the family therapist and president of the Center for Development and Constructive Interaction (Cedic), Rafaela Burgos, and the director of World Vision, Juan Carlo Ramírez, with the moderation of the communicator Reynaldo Infante.
The World Vision mobilization to eliminate violence towards children is carried out simultaneously in more than 60 countries.
In the Dominican Republic, it focuses on the eradication of physical punishment in homes, since it is a form of culturally accepted violence, which affects at least six out of every ten children in the country.
World Vision promotes that tenderness is assumed as an essential element for the upbringing of children, not only in the family nucleus but also in school and community, even in the public sphere, in order to make a collective commitment.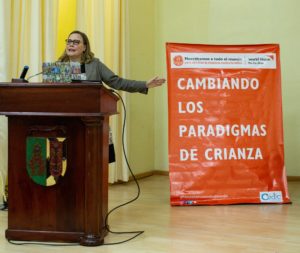 Why physical punishment?
Corporal punishment is one of the most common forms of violence against children and adolescents in the Dominican Republic because the so-called "pelas" are a culturally accepted form of discipline and are not penalized in national legislation.
Although more than 90% of parents say, they are aware that physical punishment is not the best option to discipline their children, 63% of children between the ages of one and 14 report experiencing aggression, physical or psychological in the month prior to the survey (Enhogar-MICS, 2014).
The situation is serious because it puts at risk the physical integrity of the child, the adequate emotional-cognitive development, and even his life. Also, it is shown that physical punishment is related to other types of abuse, such as child labor, sexual abuse, incest, and street situation, as well as psychological abuse.
World Vision is a Christian organization of humanitarian aid, development, and promotion of justice, dedicated to working with children, families, and communities to reduce poverty and injustice. It is focused on the most vulnerable children reaching their well-being, and to serve all people, regardless of origin, religion, ethnic group, politician, or gender.