With Mastercard Black, the cardholder will enjoy an exclusive service and personalized assistance 24/7
Santiago de los Caballeros, Dom. Rep.- Banco Promerica and Mastercard presented the new Mastercard Black credit card to the Dominican market, which offers exclusive benefits and special treatment for their clients.
"We have chosen Santiago for the launch of our most exclusive credit card, the new Mastercard Black, because since we started our operations in the country this place has offered us great and important business opportunities, and it is an honor to make available to our customers more demanding a product that combines prestige, exclusivity, and unique service, "said Hampton Castillo, Executive President of Banco Promerica.
Likewise, Mr. Castillo took advantage of the scenario to reiterate that Banco Promerica has the services of Corporate Banking, Private Banking, and Personal Banking, through a range of products that meet the different needs of its customers.
On the other hand, Delma Reyes, general manager of Mastercard Dominican Republic commented: "in Mastercard, we work hand in hand with Banco Promerica to offer, in addition to a credit card, experiences according to the needs and lifestyles of customers. Our goal is that cardholders can enjoy those moments that are priceless. "
With this product, the cardholder will have unique facilities that will allow him to live a world of benefits that can only be accessed with a card such as Mastercard Black from Banco Promerica. Among these benefits, we can highlight the most attractive loyalty program, travel assistance, and concierge 24/7.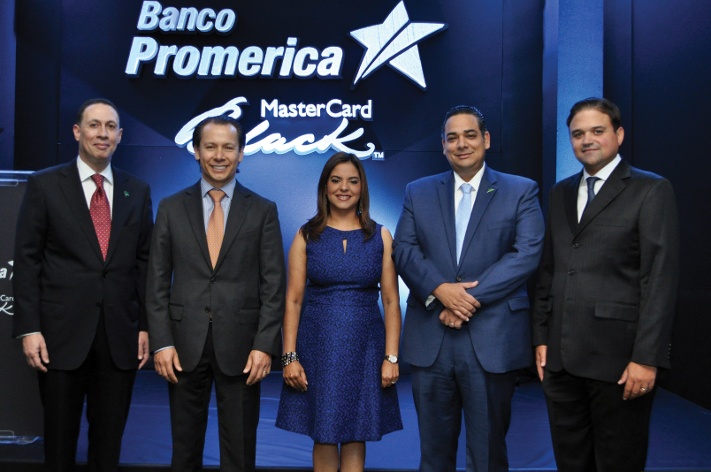 Exclusive benefits
Mastercard Black has been designed and designed for lovers of traveling around the world and offers assistance and protection of luggage access to the best rooms in different airports and unparalleled experiences through Priceless Cities, a program that invites you to know and enjoy the attractions of the Main cities of the world that are priceless.

About the Promerica Group.
Grupo Promerica is made up of nine banks: BanPro in Nicaragua, St. Georges Bank, in Panama and the Cayman Islands, and the Promerica Banks in Guatemala, El Salvador, Ecuador, Costa Rica, Honduras, and the Dominican Republic.
Promerica makes its first placement in the international market
The indicators of the Promerica Group place it as one of the most important regional financial groups, with total assets close to USD11,000 million, more than 1.5 million customers and equity around USD1,000 million.
About MasterCard
Mastercard (NYSE: MA), www.mastercard.com, is a technology company within the global payments industry. We operate the fastest payment processing network in the world, connecting consumers, financial institutions, merchants, governments, and businesses in more than 210 countries and territories. Mastercard products and solutions allow day-to-day business activities – such as shopping, travel, running a business and managing finances – to be easier, safer, and more efficient for everyone. Follow us on Twitter @MastercardLAC and LinkedIn, participate in the discussions on our blog and register to receive the latest news through our press room.
For more information, visit www.promerica.com.do and on Facebook, Instagram, and Twitter with PromericaRD.