She is the most special and if you are looking for a gift that facilitates your life, that modernizes the home and takes care of the environment, do not think about it and give it away from the new Samsung TRF refrigerator or the Samsung Activ DualWash washing machine, which will undoubtedly make Mom falls in love.
Mom deserves to have a modern home, with technologies that allow her to store food for longer without losing or changing its original flavor or representing energy and water savings. For this reason, Samsung brings innovative TRF refrigerators and Activ DualWash washing machines, accompanying daily life that provides solutions to these day-to-day needs, without leaving behind design, functionality, and accessibility.
"To dream of owning a large refrigerator, which keeps food fresh for longer, so that your weekly grocery purchase yields more today can be a reality thanks to the Twin Cooling Plus ™ technology, incorporated in the new Samsung TRF refrigerator, which offers an independent refrigeration system and ensures that the correct temperature and humidity level of 70% is maintained throughout the refrigerator, keeping food free of odors and fresh, "said Lohanna Sinclair, regional marketing manager for Samsung Electronics.
The exclusive Twin Cooling Plus ™ system is an example of Samsung's efforts aimed at preserving the environment. In addition to their attractive designs, the new Samsung refrigerators have a class A + energy efficiency with environmentally friendly features.
Samsung also has Activ DualWash, a system that allows delicate items that need to be washed by hand to be washed in their built-in tray, reusing water for the full wash cycle, reducing water consumption. This technology also allows you to calculate the amount of water needed for washing clothes based on their weight.
The best example of Samsung's effort in this regard is integrated into its line of air conditioners, which includes Digital Inverter technology. This intelligent technology is characterized by maintaining the desired temperature without the need to turn them on and off frequently, in addition its "single-user" mode allows less use of the capacity of the compressor, allowing use when you are alone, even during a hot day, which It translates into savings in consumer billing, Sinclair said.
As a leading global company in the technology sector, Samsung continues to place the environmental issue as a key factor in all its business decisions and growth strategies, helping to build the planet that we all deserve. These technologies are focused on improving the quality of life and well-being of the whole family, said Lohanna Sinclair, regional marketing manager for Samsung Electronics.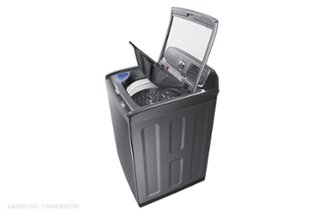 Samsung Electronics Co., Ltd.
Samsung Electronics Co., Ltd., inspires the world and designs the future with innovative ideas and technologies, redefining the worlds of TVs, smartphones, wearable devices, tablets, cameras, appliances, printers, medical equipment, connection systems, semiconductors and LED solutions We are also pioneers in the topic of IoT (Internet of things – "The Internet of Things") with the open SmartThings platform, our full range of smart devices, and through the proactive collaboration of the industry. We employ 319,000 people in 84 countries, with annual sales of $ 196 billion. To find out more, receive the latest news, articles and press material, please visit the Samsung Newsroom at news.samsung.com
Samsung expands partnership with 20th Century Fox, a shared video vision